Coast Line railway ploughs through southwards
Restricted space leaves residents in a quandary
By S. Siriwardena
The renovation of the Coast Line railway from Kalutara to Alutgama and the laying of the second railway line from Wadduwa southwards have left hundreds of families without a proper access road to their homes.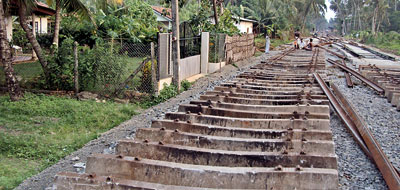 The laying of the second track from Wadduwa southwards leaves little room for residents of the houses bordering the track to leave from their front entrance.

Residents told the Sunday Times that the main road used as the access to their homes has been taken for the second line of the railway track resulting in the loss of their road. Residents have been forced to park their vehicles several hundred metres away from their homes and walk the distance.
The road was the main access to their homes and also had street lamps on the sides. Some of the vehicle owners have found it difficult to manoeuvre their vehicles out of their homes through a narrow passage left while some have found it difficult to find a safe place for parking.
"The only road we had is now closed. How are we to go about? How are our children to go to school? We need a new road quickly but the government is asking parts of our land to do so. We do not have much space and we can only afford to give a couple of feet from our land," Mr. R. de Silva of Daluwatta, Payagala said.
"The railway track has been raised to a point where we cannot walk across it because it is too high. There isn't even room for bicycles along the side," he said. The residents have also been affected as in case of an emergency they cannot get a vehicle close to their homes.

| | |
| --- | --- |
| | |
| Beruwala PS chairman Prasanna Sanjeewa | Divisional Secretary Dhamikka Rajapakse |
"No prior notice was given, the railway workers simply laid sleepers and steel tracks on them. It is unfair that we should have to go through this. What are we to do if a family member has to be rushed to hospital?
The Government is asking for parts of our land which we bought with our own money," said Mrs. Mallika Jayasinghe of Pragathi Mawatha, Payagala.
Many individuals have approached officials at the Beruwala Pradeshiya Sabha for some sort of compensation or solution to this problem, with no response.
Divisional Secretary Dhammika Rajapaksa said, "I have received a large number of complaints regarding this matter. Development of the railway system is crucial for the betterment of our nation. Therefore I will discuss this with the Pradeshiya Sabha chairman and come to a solution as quickly as possible," he said.